Erik Ortvad : 1917-2008
'The Toad - 1944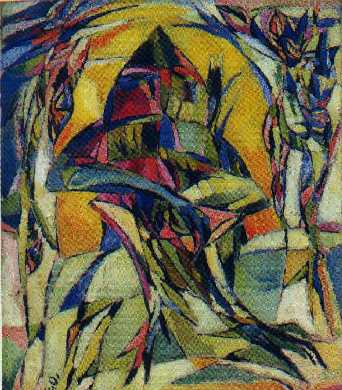 Born in Copenhagen, selftaught as an artist.
Even though he then was one of the youngest abstract surrealistic painters, he allready then had a past:
He has painted pictures, that are mirrors, that easily deforms what surrounds us, and which deforms even the reality, pictures that visions the reality almost without retouchings of that kind that habits bring along. He has given up the habit and mania to the unaccustomed, he has removed the varnish, the make-up, and has discovered, that the reality behind the burgeois aesthetics has more colours than you may find on the palette. In this way he found himself, because the varnish, make-up, the colours does not only deprive us from our body our veins, the pulse of the universe and the orgasms, but also our own life. One has to tear down the optical wall, which the ambigous burgeois has set up, then there will be no more seperation between us and the universe, than between Denmark and Scandinavia.
Ortvad has not been afraid of immediatly to paint the panoramas, which was behind and in front of the wall. He paints without blinkers, he paints globally, and one might dare to say that he is a landscape painter in the universe which people inhabit. But what landscapes the universe presents us to, like letters that open inwards ? Which landscapes do we force on the universe with great expences, like architecture, or with a glance ?
He paints forests of fables and mountain rivers, which is the serpentines of of the universal party, houses that stick to your eye, the blink of the eye caused by the sun, the voices, the sound in the sky, the knives, the scars and the prick of the light. He paints, while he gets close to something, that advance, the way that you may experience by running on a winding road on a mountain, over the villages, the towns and the time.
He denies to fold up these panoramas, to match the burgeois pockets, in the contrary he unfolds the visible - even worse to the burgeois, that goes down on their knee to the Japanese garden.
Erik Ortvad paints with the sun after having painted with a torch. He is right. We are not anymore in a theatre, We are by our selves.
About other Cobra artists
Piere Alechinsky
Else Alfelt
Karel Appel
Mogens Balle
Ejler Bille
Corneille
Christian Dotremont
Sonja Ferlov
Stephen Gilbert
Svavar Gudnason
Henry Heerup
C. O. Hultén
Egill Jacobsen
Asger Jorn
Erik Ortvad
Carl-Henning Petersen
Max Walter Svanberg
Anders Österlin

<![if !supportLineBreakNewLine]>
<![endif]>
Cobra Bibliotheket 16 - 1979