Sonja Ferlov Mancoba : 1911-1985
'The Owl' - 1935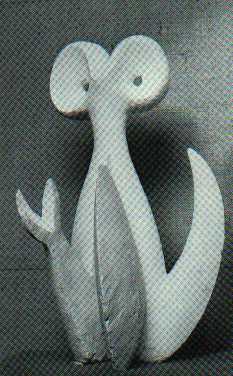 Sonja Ferlov Mancoba was born in 1911. She attended among other art schools the Ecole des Beaux Arts in Paris.
In 1935 she had her first exhibition of sculptures, but during the following few years she also did paintings in oil.
Already in her early sculptures one notices a firm, almost symmetrical construction; she worked intensively with concave and convex shapes. This is particularly apparent in Ugle (Owl), 1936. This sculpture is part of the tradition of mask representations which later became characteristic of abstract Danish painting, particularly during the war, and of which the international Cobra Movement was an offshoot.
The mask motive in Sonja Ferlov Mancoba's work arose as a natural consequence of her interest in African art, and the motive is seen in sculptures like Krigens udbrud (Outbreak of War), 1939.
Through experiments with form and through a clarification of her own attitude to the relationship between art and society she reached a very personal mode of expression.
The titles of her sculptures indicate the artistic intentions which she tried to carry out: Daggry (Daybreak), Koncentration (Concentration), Resistance, Effort Commun, Elan vers l'avenir, Solidaritet (Solidarity), L'accord and A l'écoute du silence.
She tried in her work to uncover new forms, and she cut her way to reaching a balance which was almost symmetrical showing a strength and vitality which in her best work turned into a magical expression of form. During the extraordinary process of the creation of a work of art in the course of which emotions and thoughts materialize into structures and symbols she forgot neither her deep attachment to the patterns of civilization nor her own social philosophy.
She also made some drawings and collages, se her cover of 'CobraBibliotheket' volume 9 from 1950 further down.





About other Cobra artists
Piere Alechinsky
Else Alfelt
Karel Appel
Mogens Balle
Ejler Bille
Corneille
Christian Dotremont
Sonja Ferlov
Stephen Gilbert
Svavar Gudnason
Henry Heerup
C. O. Hultén
Egill Jacobsen
Asger Jorn
Erik Ortvad
Carl-Henning Petersen
Max Walter Svanberg
Anders Österlin
Cobra Bibliotheket 9 - 1950