Stephen Gilbert : 1910 - 2007
Composition 1945
<![if !vml]>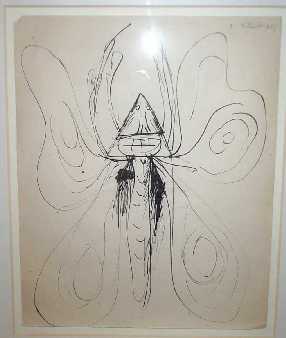 <![endif]>
Born in Fife - Scotland, attended architecture school from 1929 at the University of London, started painting in 1930, and attended 'Slade School', where In the beginning he was inspired by Cezanne.
During the war he was a member of the Irish group 'White Stag Group' .
According to Willemijn Stokvis' recent masterpiece on Cobra he painted most of his Cobra paintings during the war.
These paintings and drawings consist of a mythical world of bird-insects, skull-butterflies, Jumpin-jack-insects and other strange creatures.
I see some of these figures being close to some of the fantasy figures in Carl-Henning Pedersens early drawings and paintings, only close, as Cobra embraced wide.
He exhibited in Paris in 1948, and probably he got in contact with Dotremont, Alechinsky and others from the Cobra movement here.
This contact had a great impact on Gilbert, he saw that he was close related to these people in his art.
He was very involved in the 'Bregnerod congress', visited Svanberg in Sweden, got some of his pictures sold in Denmark.
After this meeting with Cobra his style changed to a more abstract style, as shown on the cover of 'CobraBibliotheket' volume 10 from 1950, see further down.
Stephen Gilbert on Wikipeda

About other Cobra artists
Piere Alechinsky
Else Alfelt
Karel Appel
Mogens Balle
Ejler Bille
Corneille
Christian Dotremont
Sonja Ferlov
Stephen Gilbert
Svavar Gudnason
Henry Heerup
C. O. Hultén
Egill Jacobsen
Asger Jorn
Erik Ortvad
Carl-Henning Petersen
Max Walter Svanberg
Anders Österlin
Cover of Cobra Bibliotheket vol. 10 - 1950