CoBrA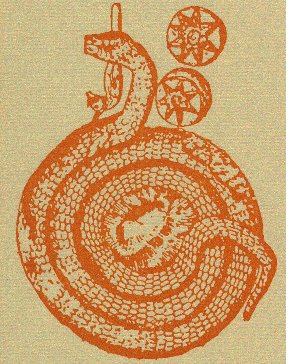 It began in Denmark
Cobra was chosen as the name, taken from the names of the 3 cities involved , COpenhagen, BRussels and Amsterdam.
Copenhagen is the head, Brussels is the body, and Amsterdam is the tail, here illustrated by a drawing found in a book
written by Virtus Schade ' COBRA from head to tail' from 1971.
The ideological and idiomatic preconditions for COBRA can be found in Danish art from the period 1935-1945. The influence of the Danish artists remained decisive throughout the COBRA period, and was possibly also an important cause of internal conflicts, and for the lack of acceptance by the art establishment, especially in Paris. COBRA was quite simply too different and was perceived as conservative in relation to the Parisian avantgarde.
The point of departure for COBRA collaboration was thus the results that the Danish "abstract artists" had achieved in the course of the period 1935-45. These were remarkable and the product of a series of coincidental circumstances. Obviously, the main reason was the presence of a whole generation of unusually gifted artists, most of them born around 1910, in their twenties when their development picked up speed in the thirties and around 35 when the war was over, a decade older than most of their other colleagues in COBRA.
Each artist was a strong and independent personality and this is why so many conflicts as well as fruitful dialogues and discussions occurred. What held them together was the consciousness of belonging to a Danish tradition, of being different from artists from the great centres further south in Europe. At the same time they harvested material from those areas for a vision of what it was to be an artist.

Per Hovdenakk - 1998